The Basics of Towing a Caravan November 7, 2022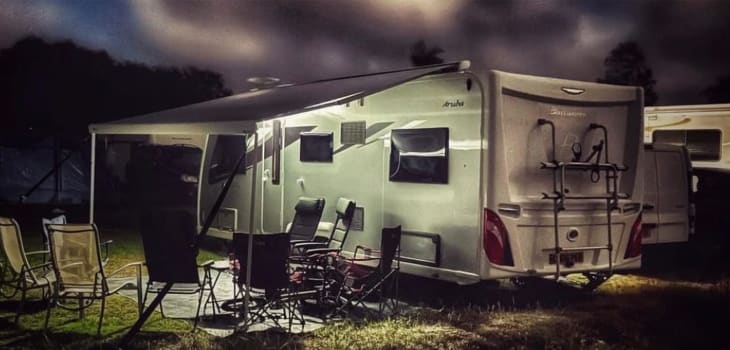 Photo credit @allotsdc
We see them everywhere, and they've been one of the most popular methods of camping ever since Scottish Medic Dr. William Stables commissioned the very first touring caravan back in 1855. But how much do we really know about what's involved in towing a caravan?
Sure, we know what they look like and could easily spot one a mile away, but when it comes to pulling one or fitting one to a car, would you know what to look for and how to do it?
Fear not, for we've covered the basics of towing a caravan or trailer for you below. Throughout this article, you'll find handy hints, tips and tricks for getting you safely to your very first camping spot, leaving you to enjoy the ride and your holiday.
What Equipment Do I Need for Towing a Caravan in the UK and Mainland Europe?
Buying a caravan is an exciting experience, and no doubt you're already imagining yourself hitting the open road and getting ready to head to your very first park up spot. But before you jump into your car and start playing your holiday playlist, you need to make sure you have the right equipment for the job.
If you've never towed a caravan before, then it's important you know the basic equipment required before you cruise out of your drive, garage or from the curb outside your home.
Visible Number Plate
We know it might seem like a ridiculous statement to make for anyone that already drives, but it's important to have number plates on both your car and caravan. Make sure the number plate on your caravan is the same as your towing vehicle and clearly visible to drivers behind you.
Towing Mirrors for Your Wing Mirrors
Caravans are wide; we've all been behind one at some point in our lives on the motorway to know this much about them. So, it stands to reason that when you're towing a caravan, you'll need a helping hand to see the road behind you on either side.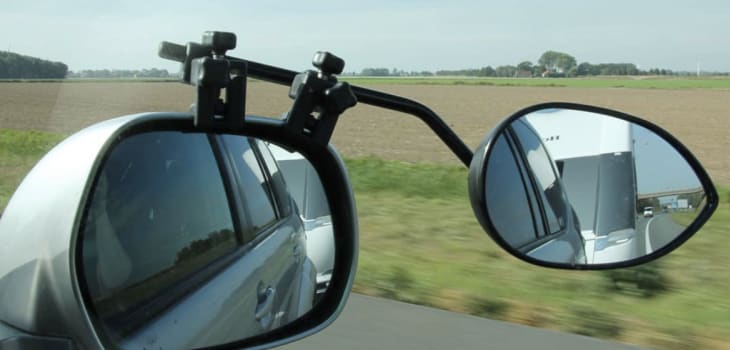 Photo credit @caravanning_with_the_hoopers
Towing mirrors allow you to see clearly past your trailer. And as well as being useful for your safety and the safety of others on the road, they're actually a legal requirement.
Legally, you must make sure that you can see at least four metres either side of your trailer and 20 meters behind the rear of your caravan. The same goes for towing a tiny home or a pop-up trailer.
If you only take one thing from this segment, remember that you can be fined heavily if you don't have these mirrors installed properly. What's more, you can also be fined if you leave them on while driving without a trailer. Your car might look cool, but your bank balance won't if you forget to take them off!
The Breakaway Cable
As essential items go, you can't get cheaper than the price of a breakaway cable. Costing less than £10/€10, this little cable is crucial whenever you're towing something behind your car.
We know you don't want to think about any kind of accident while on the road, but should the worst happen and your caravan become loose from your tow bar, then the breakaway cable activates the breaks on your caravan, stopping it in its tracks.
Tip - Before setting off, make sure the carabiner on the breakaway cable is either securely clipped to a hole on your tow bar or securely wrapped around the tow bar and clipped to itself. It's a little check that will only take a few seconds, but it could prove to be a lifesaver!
Do I Need a Special Licence?
Photo credit @hyunmin_h
In most cases, you can drive a caravan on your existing driving licence. Just like with a campervan, so long as the caravan doesn't exceed the weight limitations or maximum authorised mass (MAM) set out by your licence, then you won't need to do any additional tests to be able to drive it.
It is worth noting that in the UK, drivers over the age of 70 that don't hold the B+E driving licences when their licence expires will have to pass a test to allow them to pull a caravan. If you are over 70 and planning on heading out on a road trip, double check your licence before you head off.
How Do I Hook Up a Trailer?
Hooking up a trailer isn't as hard as you might think.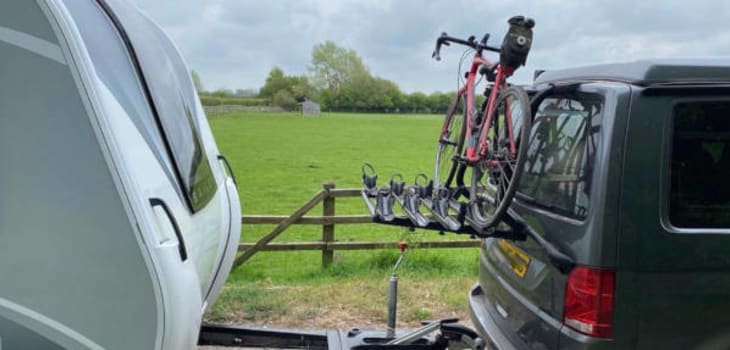 Photo credit @fabmabs.ontour
The first thing you'll need to do is make sure you have the correct tow bar in place. Tow bars come in two styles; bolt on ball, and swan neck designs. A quick Google search for your specific vehicle type will get you to the right place for buying the perfect bar for your vehicle.
As long as your tow ball is around 350 - 420mm from the ground when your tow vehicle is at its heaviest; I.e. with all passengers and luggage inside, then you're good to go.
Reverse up to your caravan or trailer in a straight line until the hitch on your caravan is slightly above the ball on your tow bar. If you can, get someone to guide you in and drive slowly. If you're riding solo, make a mark on the ground or use a cane or broom to show you where to reverse to.
Lift the latch on your coupler, lower it onto the tow ball, remove your trailer jack and lock the coupler latch back in place to secure your caravan to your tow car. Don't forget to insert your latch pin in to lock the mechanism together, then attach your all-important breakaway cable.
Getting to Grips with Electrical Components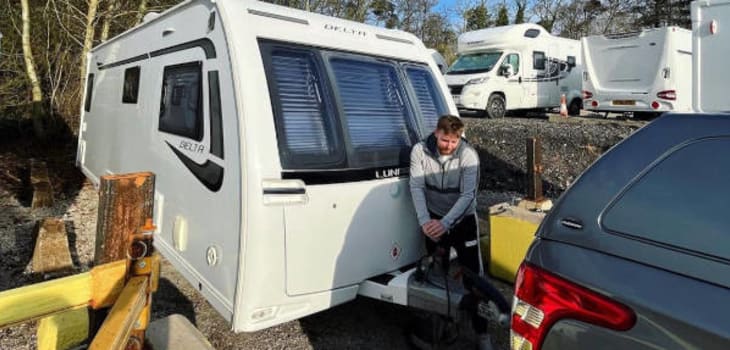 Photo credit @touringwithus_
You don't need to be a rocket scientist to connect the lights on your trailer to your car. Simply look for the wiring socket on the back of your tow car, either in the boot or near the tow bar itself, and plug your trailer wire into the socket.
If you've done this correctly, then when you press the break on your car, the lights on the back of your trailer or caravan should turn on. It's as simple as that!
Tip - If you can't find your wiring socket, check your car owner's manual or do a quick search on the internet in order to locate it. When attaching your cable, make sure you don't catch it between the coupler and tow bar too, otherwise you might end up causing damage to the wire which could lead to a faulty component and poor connection.
Tips for Driving Safely While Towing A Caravan
Keep an Eye on Your Weight
While you can eat as many croissants and ice creams as you want on your holiday, it's important to think about the weight of your camper trailer and how that can affect your drive to and from your destination.
We don't need to tell you that you need to be careful when towing a caravan behind you. We've all heard stories about caravans jackknifing or swerving into other lanes, but these situations are avoidable.
If you're new to caravan towing, then just make sure you keep your caravan as light as possible. The trailer should never weigh more than your maximum towing weight of 3,500kg anyway, but don't make things difficult for your first journey. Heavier caravans are harder to handle and make climbing and descending hills much more difficult, putting strain on your tow vehicle.
If you are taking any heavy belongings with you, make sure that they are placed securely in the centre of the caravan above the wheel axel/wheel arches. Weight distribution is key when towing to avoid the caravan dipping at the front or back.
Tip - Use a nose weight gauge to make sure the front of your caravan isn't going to lift the front or rear of your tow vehicle.
Wing Mirrors
We've said it once and we'll say it again; make sure you can see what's coming both beside and behind your caravan while out on the road. Keep yourself and the other drivers/cyclists around you safe by having maximum visibility of your surroundings.
Keep an Eye on Your Speed
When was the last time you checked the highway code? Did you know that on a motorway with three or more lanes, you can't legally travel in the right-hand lane (or left hand in mainland Europe) while towing a caravan?
In most cases, your maximum speed will be 10mph under the national speed when towing a caravan, too. So, here in the UK on a 70mph dual carriageway, drivers towing trailers can only do 60mph, and the same goes for motorways, too. Similarly, the rule also changes for 60mph single carriageways, where drivers mustn't exceed 50mph.
Most people don't know that this rule applies to standard vans too, but not camper vans. So, if you're thinking of converting a van into a camper, this is one benefit of reclassifying your vehicle from a panel van to a camper.
Watch your speed on downhill descents, too. With added weight behind you, it's all too easy to pick up speed if you're not concentrating. Try to account for hills in advance and descend slowly so you don't have to keep riding the breaks.
How to Level a Caravan or Camper
Never leave home without levelling blocks. Even in campsites, you'll come across pitches that aren't 100% flat, and no one wants to roll out of bed in the middle of the night.
If you're travelling any great distance, it's important to make sure you've had a good night's rest. Especially if this is your first caravan camping trip, you need to make sure you're well rested before getting back out on the road.
By using levelling blocks, essentially plastic cheese wedges underneath your tyres, you can make sure that your caravan is perfectly level before you step foot inside.
Tip - Use a spirit level on a flat surface outside or inside your caravan to determine whether you're 100% level. Just check the bubble in the centre and see how far off you are.
Remember to go slowly and take your time when raising your caravan wheels on levelling blocks. While you can do it on your own, it's much easier to have another person outside telling you when you've reached the desired height or to hold the levelling blocks in place with a broom handle.
That's twice a broom has come in handy during this article; we bet you never knew they had so many uses!
Will Not Being Level Cause Damage to My Caravan?
If your caravan isn't level, then jumping out of bed and toppling into the sink in the middle of the night is probably going to be the first thing that you experience in the short term. Still, in the longer term, living in a caravan that isn't level can do damage to your suspension and chassis.
If you're not level, you can also cause unnecessary wear to your tyres, too. Just try standing on one leg and rereading this article. Now imagine living in your caravan for two weeks while one of your tyres is taking the brunt of the weight. Not good, right?
Being level is also important to make sure that the chemicals inside your 12V fridge work efficiently. 12V fridges aren't exactly something you want to be buying every month, and if the chemicals can't flow properly, you could end up damaging an expensive bit of equipment. Look after your fridge; no one wants to be travelling with a hungry driver, so let's get level and keep those snacks cool and fresh!
---
About the Author
Lippert guest blogger, Sebastian Antonio Santabarbara, is a thirty-two-year-old writer from Yorkshire, UK. His first breakthrough role came as the Head of Written Content for Van Clan, an online media brand documenting the van life movement with a weekly reach of over 5 million readers. This role has led to Sebastian being head-hunted to write several inspirational non-fiction books on alternative living (to be published by Frances Lincoln 2022/23) and Van Life for Dummies (published by John Wiley & Sons Sept 2022). He is also the Editor in Chief for Retro Dodo, a media/news company with a monthly reach of 1 million people. Follow his travels on Instagram!