10 Tips for Living in a Van April 4, 2023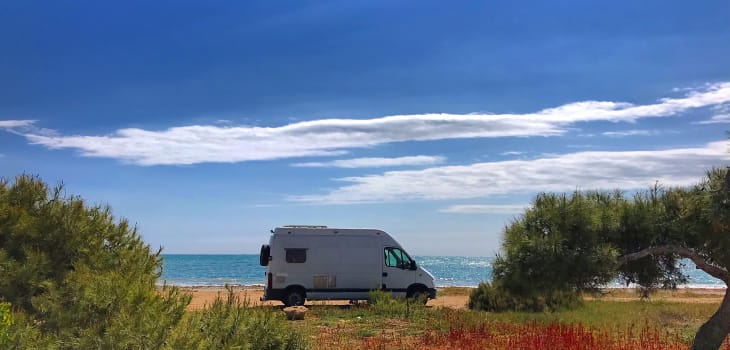 Photo credit @sebsantabarbara
Van life is without a doubt one of the best ways to see the world, travelling on a budget and getting out into the wilderness away from all the tourist hotspots to see untouched areas of natural beauty. It's a chance to kick back and live a much slower pace of life, getting into the great outdoors and living life on your own terms.
But how do you go about living in a van if you've never done it before?
Moving from a house into a tiny home can be daunting at first, especially if you've never done much camping or tiny space living before. But don't worry; I've got some important tips for you that I've picked up from over half a decade of living in a van full-time that will certainly get you into the mindset of a vandweller.
And, more importantly, prepare you for the adventure of a lifetime!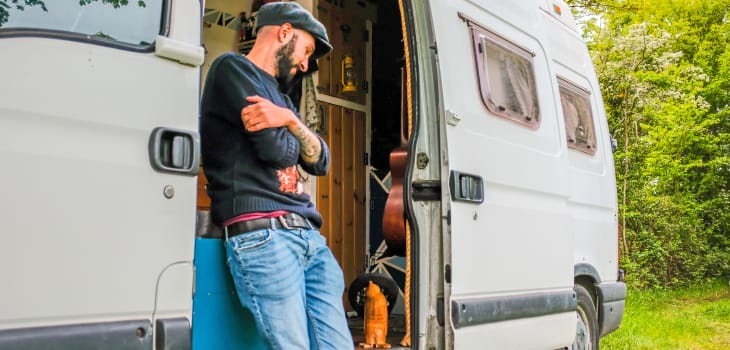 Photo credit @sebsantabarbara
1. Create the Perfect Sleeping Space
Making sure you have the perfect sleeping space is essential for living in a van. I know all you want to be thinking about right now is your next park up spot, but a good night's sleep is the key to enjoying your adventures and for staying safe on the roads and around other drivers; don't forget that your house is on wheels.
The age-old debate of having a rock 'n' roll bed vs. a static bed will likely go on until campervan conversions cease to exist. I can see the pros and cons of both; a rock 'n' roll bed creates more space in the van during the day, allows for a sofa and can be extended as much as you want into the body of the van. A static bed is always there ready for you to jump into when you arrive and creates more permanent storage, but it does take up more space.
Photo credit @sebsantabarbara
Personally, having a comfortable bed that I could jump into after a long drive was one of the most important things to me, so I opted for static. I used a normal double memory foam mattress and only had to cut 4" off the length to fit it widthways in the back of my van, sleeping soundly every night for five and a half years!
2. Conduct a Trial Run Before Setting Off on Full-Time Van Life
One of the biggest pieces of advice that I can give you is to do a trial run in your van before attempting full-time van life or heading out on a journey for any length of time. I spent the two weeks before finally moving out of my house living in the van on the street outside, doing everything from cooking breakfast to sleeping in my comfy new bed, safe in the knowledge that if anything went wrong in the van, such as an electrical fault or a leak, I could head into the house and fix it in the morning. It's also a good idea to head out on a few short road trips to get used to how the van handles and to see what it's like parking up in new places.
This initial test run was invaluable for me as it showed me things that I needed to add, elements that were unnecessary and a few areas that needed a little bit of attention — giving me the time and the space to fix them before heading out to remote European parking spots. Living in a tiny space can be hard if you're not prepared, so give yourself chance to ease in rather than creating a shock to the system on your first night living the van life.
3. Pack the Clothes You Need
I've lived in a van for five and half years, and I can tell you now that underwear and socks are your best friends. I packed enough boxers and socks to last me a month, mainly because I didn't want to be washing every other day (but I'll get onto that in the coming sections).
I took five shirts with me that I never used, but I did spend a lot of time relaxing in joggers. The main thing I'd say is to think about what you want from your van life experience and to pack accordingly, and that goes for whether you're heading out for a few weeks or a few years.
Photo credit @sebsantabarbara
You don't need to take every pair of shoes that you own either. A pair of Doc Martens, a pair of vans, some walking boots and a pair of slippers were all I took with me, and that covered every occasion. And in winter, you're going to need those slippers, trust me!
Try to think about summer vs. winter clothing usage and create a storage system in the garage segment of your van build. I had all my winter jumpers and coats folded up in an airtight box and rotated with my shorts, lightweight coat, etc. once the weather started to turn.
Of course, if you're planning on heading out surfing or climbing, then you'll also need to think about packing clothes appropriate to your sport and storing your equipment — something I talk more about in my book on how to build a camper from scratch, called "Van Life For Dummies."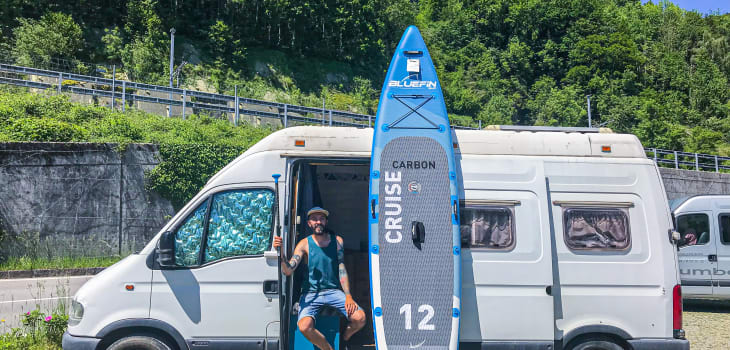 Photo credit @sebsantabarbara
4. Find a Park Up
Finding a beautiful parking spot for a few days is what van life is all about, and if you're unsure of where to go in the local area, then apps like Park4Night are perfect for finding a place to call your temporary home.
Park4Night is a user-led app that allows people to upload places that they have visited in their campers or areas that they know are camper-friendly for other users to visit. You can see pictures of the area ahead of arrival and read comments from other users about how safe the place is, how easy it is to get to, and what amenities are available (some forest park ups have taps or hot springs, and other spaces might have free showers, for example).
Photo credit @sebsantabarbara
One piece of advice that I would give you is to always arrive at a space during the hours of daylight so that you can get a good feel of the place. You're not always guaranteed to gel with every overnight parking spot you visit, and sometimes, no matter how safe other people have proclaimed a park up to be, you just won't feel comfortable when you plan to park overnight. That's totally fine; there's no shame in moving on, and you should always go with your gut… something I wish I had done before having to be safely escorted by the Italian Carabinieri out of a quaint little village that I thought would be a safe place to park at night.
But hey, at least I have some anecdotes now!
5. Plan Your Journey
Don't just rely on Google Maps when driving around the world. I tried this at first, and my phone was sending me up incredibly small alleyways designed for Fiat Pandas, and I was driving a high-roof panel van!
Invest in a proper camper sat nav, such as the TomTom Go Camper, a device that allows you to input your height, width and speed so that it can take you down proper routes suitable for your vehicle, avoiding any low bridges in the process. Getting something with a widescreen and bigger graphics to follow is also great if you're concentrating on finding new areas, and it means you're not constantly draining your phone battery while driving or trying to find gas stations.
6. Make a Plan to Wash Your Clothes
I've already touched on what clothes to bring along for the ride, but if you're staying on the road for a long length of time, then how do you wash everything?
Well, if you're planning on visiting cities, then you'll run into plenty of launderettes. And I know that doesn't sound like the most exotic of locations to be visiting on your adventures, but sometimes when you have some work to do, the quiet of the laundromat is the perfect place to get your head down while finishing an article or firing off emails.
If, however, you're planning on spending a lot of time off-grid, then a Scrubba Wash Bag is one piece of kit that you definitely need in your camper. The Scrubba is a plastic bag with a wash board inside it and an air valve. Simply fill with water (I warmed some up in the kettle in my van first or used hot spring water when it was available), add your clothes and detergent, fold and seal, let out the air and move the bag around to wash your clothes.
All that's left to do then is rinse, wring out and hang your clothes in the sun to dry while you kick back and read a book! And if there's not a lot of room in your park up for hanging clothes, use your washing line in the front of the camper van as it's the warmest place when the sun shines in through the windscreen, though you may get a few odd looks from passers-by!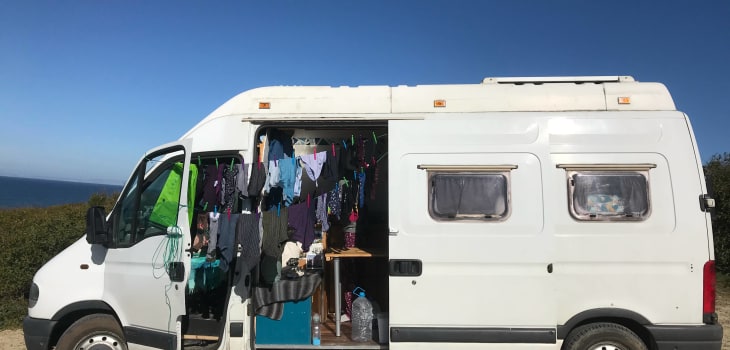 Photo credit @sebsantabarbara
It's best to find somewhere that you can empty your washing water safely, like the drain at a camper fill up spot. If you are in nature, then make sure you're using eco-friendly plant-based washing detergents and dispose of your wastewater away from natural water sources.
7. Buy Food on a Budget
Like sleep, food is an integral part of life on the road and something that you'll have to factor into your travels. The temptation to eat out every night will definitely be there in the back of your mind, but this will gobble your budget faster than I can chow down on a whole tiramisu.
Cooking fresh in your camper van and sticking to a budget will definitely help you save money while on the road, and you can usually get some exciting local cuisine too. I once bought some parmesan cheese from the back of a man's car in Sardinia, and it was the best I had ever tasted!
I stick to the simple shopping list rule of 'if it ain't on the list, it's not going in the cart'. Making a food plan helps you buy exactly what is needed for the week, reducing the amount of food that goes to waste while not overfilling the storage space inside your van and, again, saving money. When you live in a small space, it's not feasible to be buying a whole bag of coconuts or 10kg of pasta unless you want to strap them into the front seats while driving.
I spent around €35-40 every 7-10 days and bought plenty of snacks, dried goods, more snacks, vegetables, fruit, cupboard items and more snacks.
Driving is hungry work!
8. Learn to Cook on the Go
Put the super noodles down; you can eat all the things that you enjoyed while living in a house out on the open roads, even without a conventional oven.
I took two pieces of cooking equipment with me when I hit the road that every van lifer should own; the RidgeMonkey XL and the Omnia Oven.
The RidgeMonkey XL was originally designed for fisherman to cook up their catch down by the riverside. It's essentially a large sandwich toaster that I've used to cook everything from pizzas to paninis, but it's perfect for fish, sausages, Yorkshire puddings and much more.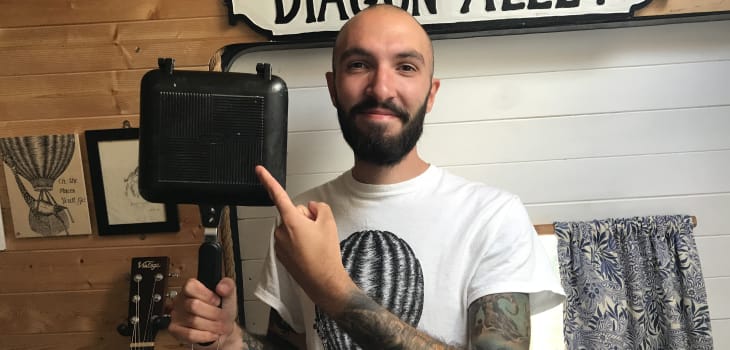 Photo credit @sebsantabarbara
The Omnia Oven is a stove-top convection oven that I've used to make everything from cinnamon buns to lasagne. I've baked bread and cakes in there, cooked roast potatoes and whipped up tasty vegetable stews, too.
Just because you live in a campervan doesn't mean you can't get inventive with your food. And as I said earlier, cooking fresh keeps that budget down, especially over the long term. Fuel up properly for your adventures, and don't forget to make a lot of cake.
9. Set Up Your Phone for Mobile Internet Usage
Some of you might be wondering, "How can I get internet in my van?" While it's possible to add a WiFi extender into your build so that you can snag the free WiFi at McDonald's or the local library while sitting in your camper, the easiest way is by hotspotting off your mobile phone.
I'm with Voxi, a company that give their users unlimited social media data and video streaming (depending on the plan) for use on their phones or while tethering to an iPad. I also have 75GB of data for using while tethering to my laptop, which is more than enough for uploading articles and sending emails while on the move every month.
Photo credit @sebsantabarbara
And yes, you can work on the road. I've been both the Head of Written Content for Van Clan and later the Editor in Chief for Retro Dodo while travelling full-time, as well as writing travel books that I've had published, too. I know and have interviewed lots of people that sign into intranets from beside the ocean and log onto Zoom calls from mountain tops, say nothing about coffee shops.
Remote working is incredible, and nothing says taking a break from a busy schedule like heading out for a 20-minute paddleboard break.
Pro Tip: Apps like Park4Night let users know what the mobile phone signal is like in specific park up locations, so plan accordingly if you have work to do, and save the signal dead spots for the weekend when you don't want to be bothered by the office.
Photo credit @sebsantabarbara
10. Create Personal Space
If you're travelling with a friend or partner, then it's incredibly important to create some personal space for yourself every now and again. Living in a van with another person in a small space can sometimes be a lot to deal with, and it's perfectly normal for you to want a little 'you time' to recharge and gather your thoughts.
One thing that works is going for separate walks into the countryside or around the local town and reporting back to each other what you have found along the way. Inside the van is a little trickier, but by creating your own zones in the front and back of the van and doing things that you each separately enjoy, such as reading or playing a computer game for a couple of hours, you can fully reset and give yourself time to unwind.
Don't worry — you're not being anti-social by wanting this, and it's important to put these boundaries in place at least every couple of days. Just be open and honest with your friend or partner and always talk things out in a calm and relaxed fashion; there's nowhere to storm off to when you live in a campervan. Working through any problems that arise as a strong unit, while keeping in mind the other person's feelings, will help you both to have happy adventures and to make living in a tiny space much easier.
---
About the Author
Lippert guest blogger, Sebastian Antonio Santabarbara, is a thirty-two-year-old writer from Yorkshire, UK. His first breakthrough role came as the Head of Written Content for Van Clan, an online media brand documenting the van life movement with a weekly reach of over 5 million readers. This role has led to Sebastian being head-hunted to write several inspirational non-fiction books on alternative living (to be published by Frances Lincoln 2022/23) and Van Life for Dummies (published by John Wiley & Sons Sept 2022). He is also the Editor in Chief for Retro Dodo, a media/news company with a monthly reach of 1 million people. Follow his travels on Instagram!